Services offered by COM-therm include:
realization, installation, management and inspection of gas facilities
advisory services in the area of fuel gas usage
The above mentioned services are executed by the employees of our company, a holder of following licenses:
technical inspection Nitra
fy. Justing
SPP servis Bratislava (SPP services Bratislava)
TüV welding test
Certificate of competence in electrical engineering
In the area of services, the centre focuses, among other things, on servicing of gas regulation stations in counties of Komárno, Nové Zámky, Dunajská Streda (OSRAM NZ, KAPPA Štúrovo, KG Komárno, RIEKER KN, Nemocnica DS, and others.).
Our specialists provide the installation and servicing of gas-fired boilers up to 50kW for residents, as well as other customers.  We offer these services for the products of our contractors PROTHERM, WIESSMANN, VAILLANT, BUDERUS, QUADRIGA, and MORA.
From 1st January 2008 the specialists of COM-therm s.r.o. provide inspections of appliances with power over 20kW.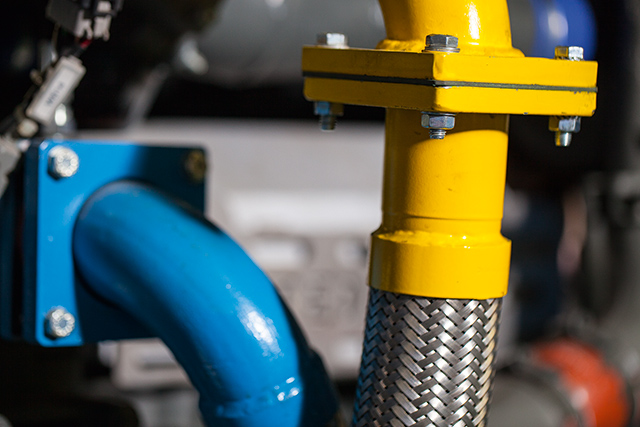 In January 2008 a new law about regular inspections of heating systems came into effect. Thus owners of houses, apartments, and other non-industrial real properties heated by boilers with power over 20kW came under a new obligation. The law requires them to have their heating systems inspected by an authorised specialist on a regular basis. In addition to that, all air-conditioning units, with power of 12kW or more, in non-industrial real properties, have to be regularly inspected as well.
The appliances that fall under the inspection requirement include:
All with power over 20kW
Boilers older than 15 years
Air-conditioning units with power of 12kW or more
Non-industrial real property is:
Any real property with usage different from industrial production.
The inspection must be ordered by:
the owner of the real property.
Exceptions to the obligation:
Historical monuments
Temporary structures (up to 2 years)
Industrial buildings, workshops, agricultural and farm buildings
Apartment buildings used for less than 4 months per year
Buildings with usable floorage of less than 50m²
Buildings in which regular inspections are performed (e.g. cogeneration power plant)
Penalty in case of failure to fulfill the obligation:
Private citizen (natural person) – up to 333€
Businessman (juridical person) – up to 666€
In case of failure to arrange the inspection – up to 1666€